With the support of generous patrons and businesses, the Meridian Library Foundation can help the district expand its footprint in the community by providing modernized public spaces so it can continue to provide educational, economic, and entertainment opportunities for our diverse patrons.
As a business or Foundation partner, your name and/or organization will be publicly recognized by the Meridian Library Foundation. We thank you for your support and shared vision to create physical spaces that are welcoming and set the tone for excellence.
2022 Foundation Partners: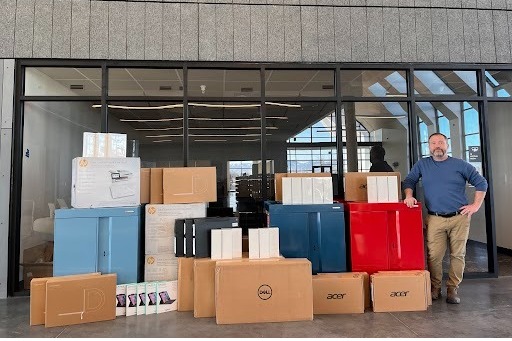 CHAMPIONS ($10,000+)
Laura Moore Cunningham Foundation
Bonfire
AUTHORS ($5,000-9,999)
Donald Soper
Nathan Belk
Robbert Callon
Lori & Butch Otter
SUSTAINERS

(MONTHLY recurring GIFT)



Mary Jones
Heather Witt
PUBLISHERS
($1,000-4,999)
Rob & Leann Kern
Your Charity Auction
Crystal Williams
Autumn Kersey
Bill Nary
Wendy Graham
Noelle McDonald
Nathan & Jane English
Josh Cummings
Jane Gennrich
Mike Laursen
First Federal Savings Bank
EDITORS
($500-999)
Gayla Smutney; Kate Barnes; Julie Franke; Mary Liz Jones; Anonymous; Peggy Bang; Howard Nichols; Fiona Tanous; Justin Carpenter; Victoria Henderson; Chelsea Major; Idaho Community Foundation; Calvin Barrett; Marcos Uechi; Amy Alcorn; CM Company, Inc; Jules & Fay Levin; Natalie Plummer; East Idaho Credit Union


ILLUSTRATORS
($250-499)
Brenna Butler; Armando Costales; Heather Witt; Eryn & Brian Turner; Amy Crookston; Fidelity National Title; Treasure Valley Aesthetics & Wellness; The Joint Chiropractic
READERS
($100-249)
Jared Roper; Tammy de Weerd; Laura Knutson; Blackbaud Giving Fund; Sally Thomas; Benevity Fund; Panda Express; Ed Sperry; Gretchen Caserotti; Megan Larsen; Erica Larson; Hilary & Bret Beasley; Nancy Rountree; Sara Tolman; Anonymous; Larry & Sharon Johnson; Allison Maier; Maxwell Jahner; Carl Hunt; PayPal Giving Fund; Crystal Perez; Kaitlin Burke; Mary Peterman; Annette Haenszel; Jeffrey Kohler; Pam Geile
PATRONS

($25-99)



Amazon S,iles; Bryson Havron; Rebecca Reed; Vanessa Schauer; Mary Aagard; Matt & Julie Frandsen; Sheryl Garey; Dan Scofield; Vannia Evans; Ken Pierson; Givinga Foundation, Inc; D. Ecklebarger; Sharon Borton; Gayle Moore; W Michael Lanier; Richard Turner; Stephanie Martin; David Poole; Gayle Osborne; Molly Wyss; Anonymous; Camille Hampton; Kimberly Hudson; Kimberly Ehorn; Greg Harshman; Jeannette Sanchez; Morgan Keating; Eric McGrath; Molly Cosso; Katelyn Boden; Amanda Estep; Kroger; Megan Case; Katie Johnstone; Avia Turner; Marl Babson; Stephanie Wheeler; James Thum; Cindy Lee; Shelly Garland; Marcia Brinton; Heather Hainsworth; Gerrit Ens; Jennifer Brandsma; Isabella Pratt; Greg Hahn; Rock Hall; Mary Ann Funk
become a partner and donate today...
MERIDIAN LIBRARY FOUNDATION
© Copyright 2023 Meridian Library District Foundation, Inc.